Marla Chandler, M.Ed.
(919) 444-2865 – marlac@pinnacleeducationservices.com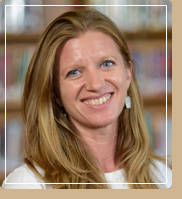 After completing her Master's Degree in Middle Grades Education (Mathematics Concentration), Marla taught middle school math and reading, eventually moving into a Montessori setting where she facilitated learning in a variety of individual, small-group, and whole-class settings. During this time, she encountered bright students who were not progressing in their reading and writing as would be expected. This prompted her to research best practices in teaching language skills, and she went on to become certified in the Orton-Gillingham and Slingerland approaches. She employs this training to tutor students with dyslexia and other language-based learning differences using a structured, sequential, multisensory approach to reading, spelling, and writing. Marla's teaching, which is both diagnostic and prescriptive, is customized for each student at all levels, including phonemic, syllabic, and morphological.
During nearly two decades of hands-on teaching, learning, and researching, Marla has developed the skill set to assist students with a wide range of learning profiles, including those with dyslexia, dyscalculia, and dysgraphia; those who are twice-exceptional; and those with ADHD, ASD, as well as executive function weaknesses. As an education practitioner, Marla believes it is her job to meet the student where s/he is, and follow the student's learning while consistently increasing the challenge to a degree that allows the student to be successful in each lesson. She is mindful of the emotionality of her students, and strives to guide each student during every lesson to feel a sense of accomplishment and success. Marla shares Anna Gillingham's motto regarding language skill remediation of "we go as fast as we can, and as slow as we must." It is this unique blend of academic knowledge, professional experience and caring for her students that ensures that Marla will reach a wide variety of learners.
www.Pinnacleeducationservices.com

Language-based learning differences including: dyslexia, dyscalculia, and dysgraphia
The twice-exceptional individuals: students with a learning difference as well as an above-average IQ
ADD and ADHD
Autism Spectrum Disorders
M.Ed. In Middle Grades Education – Mathematics Concentration
Slingerland Institute - 2 nd Level Certification
Academy of Orton-Gillingham Practitioners and Educators – Associate Level Certification
Tutoring dyslexic students K-12 for the past 10 years
Former teacher at Hamlin Robinson School, Seattle, as well as in public and Montessori schools
Washington Branch of the International Dyslexia Association member
Co-founder of Golden Platypus Apps, LLC, which creates engaging spelling apps that support the OG/Slingerland scope and sequence